Metropolia University of Applied Sciences' Myllypuro campus, Helsinki, Finland
The Myllypuro campus of Metropolia University of Applied Sciences will become a new landmark along Ring I in eastern Helsinki and a modern learning and work environment for students and staff.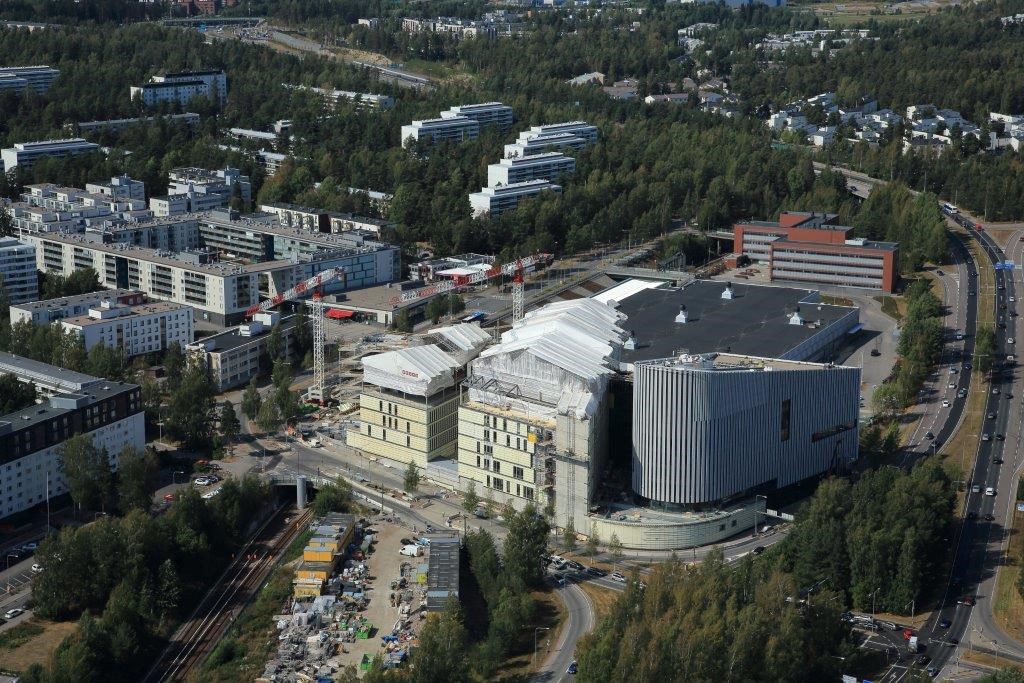 We are building a campus area in Myllypuro for Metropolia University of Applied Sciences in Helsinki, Finland. The "campus for the builders of well-being", as it is called, will consist of four U-shaped, inter-connected buildings. The first phase was completed in January 2019, when roughly 3,000 property and construction industry as well as social welfare and health care students, and some 250 staff members, moved to the campus.
In time, the campus will serve some 6,000 students and 500 staff members. The aim is to create an open and inspiring learning network which increases the entire area's attractiveness. Once completed, the campus will be the largest of Metropolia's four campuses.
The underground sections of the building will house a service yard and a parking garage for 200 cars. In addition, the campus will house two large auditoriums, a conference and restaurant centre, two sports facilities below the yard deck, a therapy pool, clinical laboratory facilities, a simulation centre, facilities for clinical therapy work, extensive workshop facilities for an auxiliary tools centre, concrete and building systems laboratories for engineering studies, the services of a modern, 1,600-square metre library, and Metropolia's own business premises. The campus will furthermore contain plenty of workspaces for staff, designed in accordance with a multi-space office concept.
Described as the campus for the builders of well-being, the Myllypuro campus is located at the intersection of busy traffic routes. One of the construction project's aims is to make the buildings a landmark along Ring I and on the route to the centre of Myllypuro. The buildings are situated on the plot compactly, and partly on top of the metro tracks. The Myllypuro metro station will be located in the front of the buildings' main entrance. The surface structures of the metro deck will be completed in the summer 2019.
Facts
Size: approximately 56,000 m2
A maximum of seven floors and parking spaces
Construction period 2016–2019
Details
Project name

Metropolia University of Applied Sciences' Myllypuro campus, Helsinki, Finland
Customer

The City of Helsinki
City

Helsinki
Country

Finland
Construction year

2019
Business segment

Business Premisess