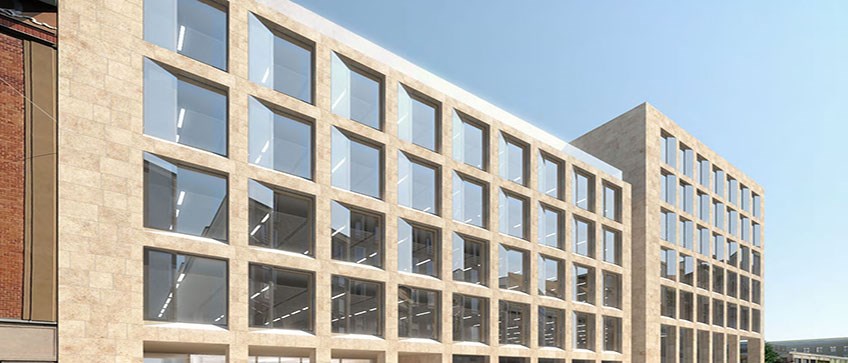 The office building to be completed near Kasarmitori square in late 2017 is one of the most significant recent construction projects in central Helsinki. The idea behind the office building goes beyond simple brick and mortar: the aim is to create a high-quality and sustainable space for present and future generations and a source of pride for Helsinki residents.
The materials used for the building have been especially chosen to be durable and of high quality. Light-coloured sandstone dominates the facade and public areas, and stylish glass details and oak have been used indoors. There is a large lightwell in the centre of the building that brings natural light to the premises all year round.
The seven-storey office building has a total floor area of almost 16,000 square metres, providing modern business premises for over a thousand employees. The largest tenants include the Roschier law firm, Danske Bank, and the Taaleri financial services company. The founders of Restaurant Juuri will be responsible for managing the restaurant services. The property also has its own parking facility and bicycle parking.
THE PLATINIUM LEVEL OF LEED
To meet the targets set for the office buildings, it was essential to use high-quality technology and strict quality criteria for all the materials used for the project. A new type of architectural thinking was also required for development of this building. Even though the purpose was to create a modern building, it also had to fit in with the surrounding masonry buildings. Respect for urban planning and the nearby environment, and careful consideration for modern environmental values and ecological aspects in the chosen engineering solutions guided the design of the building. The building will comply with the highest LEED environmental certificate of the platinum level.
The project is jointly carried out by Ahlström Capital, HGR Property Partners and YIT.
Details
Project name

Kasarmikatu 21
City

Helsinki
Country

Finland
Construction year

2017
Business segment

Business Premisess
Energy class

Rakennus noudattaa LEED:n platinatason ympäristösertifikaattia.