Renovation of Porkkalankatu 5: office space that meets the highest expectations
We converted a 1980s office into a modern working space.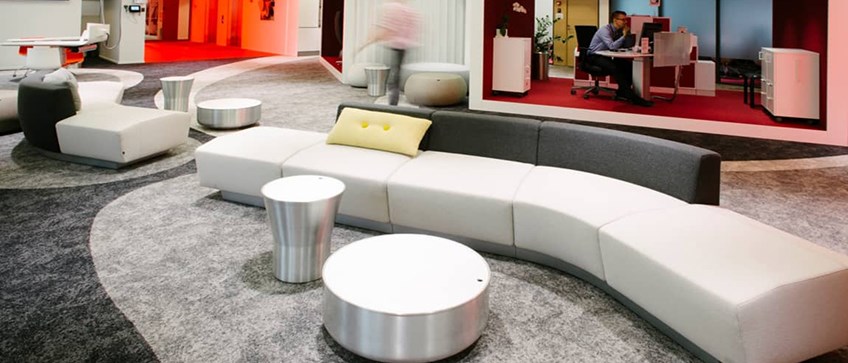 Completed in 1984, the building located at the end of Länsiväylä in Helsinki's Ruoholahti district was vacant for a couple of years before Aberdeen Asset Management bought it and modernised it for use by new tenants. The 1980s office building was still young and structurally in good condition. However, the partitioned office spaces and long corridors inside the building needed more than just a simple facelift.

In 2011, Cargotec had been looking for new premises for its head office for a couple of years. "There was some half million square metres of vacant office space in Helsinki, but we just couldn't find the right premises for us," says Kauko Autio, Director of Real Estate at Cargotec.
Cargotec's wish list included a functional open-plan office with areas for quiet work as well as teamwork, and a location in Helsinki's head office district with good transport links. We renovated the property at Porkkalankatu 5 in Helsinki into a modern working space, customised to the users' needs. Technical building services at the property were completely transformed. In the summer, the premises are cooled by district cooling provided by Helsingin Energia. A fibre optic network ensures data moves quickly around the world, and electricity is available everywhere without the need for annoying extension cords. The building has thousands of light fixtures, which are controlled according to lighting needs under energy efficient principles.
After renovation, the occupancy rate of the building owned by Aberdeen Asset Management was 100 per cent. "Renovation is a more ecological choice than new construction. This building is located in the existing urban structure and benefits from the existing infrastructure," says Pekka Huttunen, Asset Manager at Aberdeen Asset Management Finland Oy, which manages the property.
Details
Project name

Cargotec head office renovation
Customer

Aberdeen Asset Management Finland Oy
City

Helsinki
Country

Finland
Construction year

2012
Business segment

Renovation Services