EY House is an inviting building with timeless architecture
The new office building of EY Finland was completed in spring 2014 in a prime location in Töölö Bay. The appealing and novel working environment supports new ways of working and the company's brand.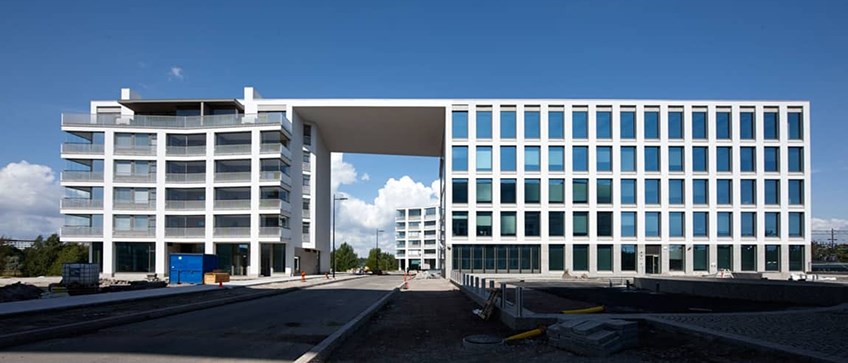 EY is a leading global expert in auditing, tax consulting, corporate transactions, management consulting and business law. In spring 2014, about 450 employees from EY's Helsinki office moved to the new premises in Töölö Bay.
"We outgrew our previous office, which was completed in 2003. We had to decide whether to renovate our existing premises or move to an entirely new building. This development in Töölö Bay was immediately appealing to us, as it offers a location in the heart of Helsinki, and the excellent transport links that come with it, while embracing its verdant environment," says Jaakko Hirvola, Country Managing Partner at EY.
The extensive two-and-a-half-year project was finished 2014, and the end result is even better than expected. "This building is a great success. It looks like Alvar Aalto for today's generation, but it is by no means ostentatious. Its professional and elegant style is an excellent fit with our brand," Hirvola explains.
Careful preparation and a strong vision
For EY, relocating to the new building is the conclusion of a multi-year project to implement EY's new global Workplace of the Future approach. "It was essential for us to have a long period of careful preparation. We practised the new ways of working while still located in our old premises by experimenting with working in a multispace office. This gave our personnel an early idea of what was to come. This helped us in many ways by, for example, supporting the realistic sizing and design of the new premises," says Sari Matikainen, Manager, Administration & Workplace Services.
The new office has practically no workstations that are permanently allocated to specific employees. Instead, the space is divided into quieter zones and more active zones according to the nature of the work performed. "Representatives of our personnel were involved in the planning and design right from the start. They provided input on aspects such as what tools and equipment should be available in each zone, the sizes of the zones, and the ground rules for working in each zone. The extensive preparation meant that people were very much looking forward to the move as it got closer. Work got started surprisingly smoothly right after the relocation weekend," Matikainen adds.
EY was closely involved in the project from the start of the planning phase. "Our strong views were very helpful in making decisions during construction. Our project manager acted as a bridge between construction, the realities of building technology, and our strong vision. I would recommend the use of a user-oriented project manager to anyone planning to build business premises," Hirvola says.
Premises that improve the efficiency of work
The key concepts in the building's spatial design were adaptability and the effective utilisation of technology. In practice, this means a multipurpose space that adapts to its users' needs, as opposed to a traditional space with fixed offices and meeting rooms. The premises are designed to have easily movable partition walls. The floors can be divided into four separate sections, and the functions located in each space can be easily reorganised by changing the ground rules of the different zones.
"The big advantage of this model is that it facilitates unplanned meetings with colleagues. You get to exchange knowledge and experience, and learn new things from your co-workers. Our personnel have welcomed our clean desk policy, and everyone contributes to keeping the premises tidy and pleasant. At the same time, we have increasingly moved towards digital work, which has also contributed to greater efficiency," Hirvola points out.
There is approximately 11,000 square metres of modern office space on five floors, the majority of which is occupied by EY. The building has a further floor and a half available to other tenants. The building's open lobby, café and restaurant are the heart of the building and serve as meeting places. On the basement level, there are parking spaces for bicycles along with locker rooms and showers to promote bicycle commuting. The complex includes two residential buildings in addition to the office building.
The design of the building was subject of an international architectural competition, which was won by Verstas Architects. The jury particularly appreciated the highly functional and adaptable floor plan of the winning proposal.
A challenging project completed on schedule and with good cooperation
As the turnkey contractor, YIT managed the construction project in its entirety, including environmental consulting. The project was challenging, but also uniquely interesting. The seamless cooperation between partners that had been a hallmark of the company's previous construction projects in Töölö Bay continued in the EY House project, which made its implementation easier.
The building was completed only 2.5 years after the winner of the architectural competition was announced. A highly capable team, effective cooperation between project partners, a great deal of work and expertise, and careful information modelling all helped keep the project on schedule despite the high quality standards.
"It was wonderful to be involved in building a high-quality head office such as this one. Construction activity in the city centre, this close to the railway, posed certain problems, but we dealt with them well," says Tapio Vihinen, Project Manager at YIT.
The proximity of the railway tracks (four metres from the wall at the nearest point) required particularly careful planning for operations such as lifting construction elements. Busy traffic and transporting construction materials through congested city streets also presented certain challenges. For this reason, a lot of work was done at night.
The proposal that won the architectural competition is structurally complex, with very large windows and not much recurrence of shapes and structures. This placed considerable demands for planning and design, with special solutions needed in areas such as the beam structure due to the long span lengths.
"The comprehensive planning of our share of the project, along with close cooperation with the client, the user and designers, were among the factors that facilitated the on-time delivery of the project. The project was characterised by an exceptionally good team spirit, and I would say that it was a key factor in its success," Vihinen adds.
EY House is the third office building constructed by YIT for Etera Mutual Pension Insurance Company in Töölö Bay. It was preceded by the building used by Alma Media and Ahlström, and the colourful KPMG building.
Environmental perspectives were important considerations throughout all stages of design and construction in Töölö Bay. All of the office buildings constructed by YIT in Töölö Bay have been awarded LEED Gold environmental certification. LEED is an international environmental certification programme for buildings that measures sustainable construction and reduces property maintenance costs and the environmental load of properties. To qualify for LEED certification, a building must be constructed from low-emissions materials, energy consumption from heating and cooling must be minimised, water fittings must support the conservation of water, and lighting must be automatically controlled.
Details
Project name

EY building
Customer

Etera Mutual Pension Insurance Company
City

Helsinki
Country

Finland
Construction year

2014
Business segment

Business Premisess
Energy class

Kaikki YIT:n rakentamat toimistotalot Töölönlahdella ovat saaneet LEED-ympäristösertifikaatin kultatason.