School project carried out with the PPP model in Porvoo, Finland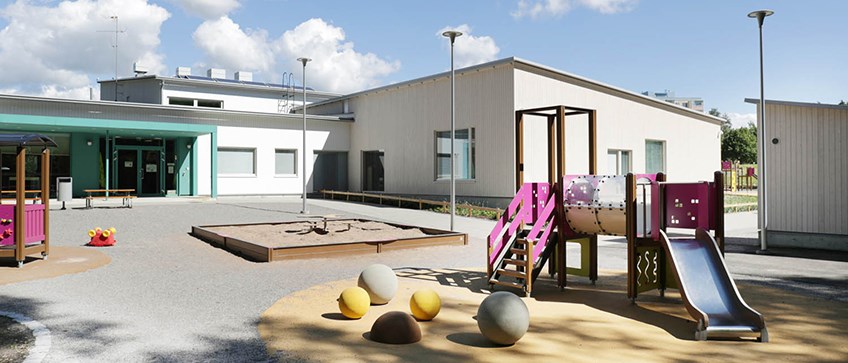 We are constructing a project entity with the PPP model in Porvoo. The project includes a total of five different buildings: Tolkkinen school, Gammelbacka day-care centre and child welfare clinic, Peippola day-care centre, Toukovuori day-care centre as well as Kevätkumpu (Vårberga) school and primary school. A library, school gym and youth centre will also be completed in connection with the Kevätkumpu school.
The construction work of the first buildings started in spring 2016. All projects will be completed in 2017 and 2018.
The agreement includes the design and construction of the buildings. Lemminkäinen will also be responsible for the buildings' maintenance, upkeep, user services and basic renovation investments during the service contract for the service period of 20 years.
"Our solutions combine physical spaces and furniture, technological innovations, teaching methods and learning contents in an interactive learning environment," says Esa Kemppainen, Vice President at YIT Talo Oy.
The schools will have plenty of open space that can be used for several purposes as well as small spaces for quiet activities. The spaces should offer young people a chance to learn in an open environment and support the implementation of the new curriculum. The target is to ensure the usability, safety and energy efficiency of the buildings together with the aspects related to health and environmental friendliness.
"Indoor air quality problems have been observed at several schools and day-care centres in Porvoo in recent years. Renovating these buildings no longer makes sense. Instead, they will be replaced with new buildings. Furthermore, new residential areas in Porvoo create demand for new day-care centres. The PPP model means that we will have a warranty period of 20 years for the buildings, compared to just two years under the traditional model," says Tony Lökfors, Project Manager at the City of Porvoo.
Energy efficiency is an integral part of the construction process
Energy efficiency has assumed an even more integral role in the design, planning and construction of buildings. Solutions made in the construction phase will influence the building throughout its entire life cycle. The school project in Porvoo is an example of a PPP project in which we, in addition to the construction, maintain the building and arecommitted to keeping its energy consumption at an economical level.
Minimising risks with weather protection
We used weather protection on two sites of the Porvoo project. It provides an efficient protection against risks related to weather, schedules and quality as well as occupational safety. The weather protections made it possible to work in dry conditions and avoid the construction material getting wet. It was easier to handle the production work and scheduling in a controlled manner when we were not at the mercy of the weather. The work was more predictable and we saved time because we didn't have to spend hours covering structures. Working under a weather protection requires a working method in which no large elements or cranes are used.
Progress of the project
Gammelbacka day-care centre and child welfare clinic opened in March 2017
Kevätkumpu school will be completed in September 2017
Toukovuori day-care centre will be completed in December 2017
The construction of Peippola school was started in May 2017, will be completed in spring 2018
The construction of Tolkkinen school will begin in July 2017 and the school will be completed towards the end of 2018
Details
Project name

PPP project in Porvoo
Customer

City of Porvoo
City

Porvoo
Country

Finland
Construction year

2018
Business segment

Business Premisess