YIT CORPORATION,
HEAD OFFICE
P.O. Box 36, Panuntie 11
00621 Helsinki
Reception open
Mon - Fri at 7:30-16:30
ARRIVAL
You can reach YIT head office by public transportation. Our head office is located next to Käpylä railway station, where the following trains stop: I, P and N.
customer parking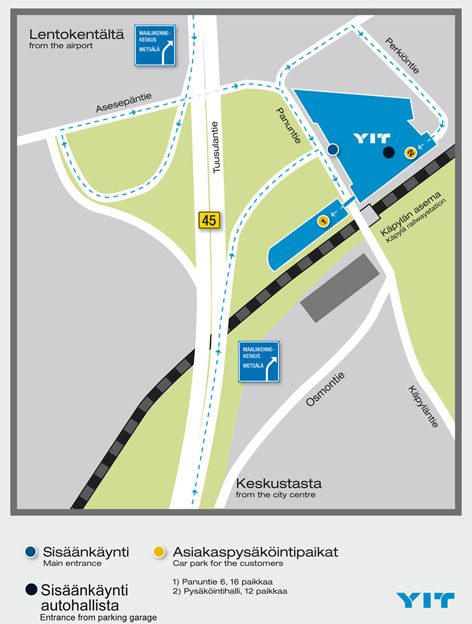 Call US:
+358 20 433 111
Service hours:
Mon - Fri 7:30-16:00.
YIT Homes contact information
YIT Business premises and infra contact information
Infrastructure maintenance
Please report feedback and service requests concerning infrastructure maintance to service center PANU.
Please report feedback concerning public roads by calling Centre for Economic Development, Transport and the Enviroment tel. +358 200 2100.
Feedback about business premises
YIT GRoup contact information
Contact information for Media, Investors and Suppliers