New pavement in 30 hours for smooth landings
With just one runway, the Sønderborg Airport needed to close down entirely in order to get new pavement. A 70-person YIT team ensured that all work was delivered within 30 hours.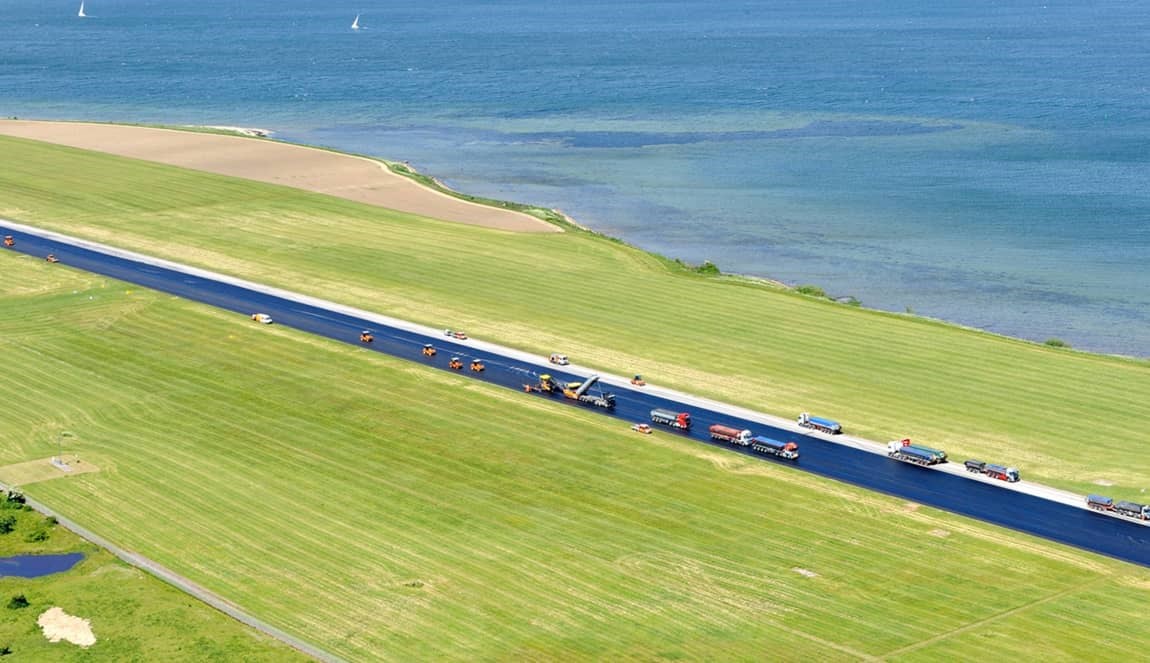 Since 2008, YIT has been the contractor for maintenance at the small Sønderborg Airport situated in southern Denmark. During their latest annual assessment, it was decided to give the runway a new top layer. But since the local airport has only one runway, the entire airport needed to close down while the work was done.
30 hours non-stop
The 70-person crew worked continuously for 30 consecutive hours to complete the repaving of the runway. At 10:00 am sharp on Saturday, work began by repaving the 1,800 metres long by 30 metres wide runway –70,000 square metres in total – in one coordinated process to obtain the highest possible quality results. We called in extra teams from other regions, since we had to work non-stop to finish on time. And still we made sure we delivered the excellent quality our company is known for.
The work is done in a series of perfectly coordinated movements. The paver is continuously loaded by the feeder, which contains up to 17 tonnes of asphalt at a time. The feeder itself drives slowly up to a long line of trucks, waiting to unload; once a truck is empty it discreetly drives away, back to the plant for a new charge of asphalt.
In Sønderborg, the time challenge was solved perfectly. The schedule was respected and the local community plus the many companies in the region can now benefit from new, safe, high-quality airport pavement that ensures smooth air connections with the rest of Denmark.
Facts:
Sønderborg Airport is a municipal airport based in the southern part of Denmark, open 24/7 for local air traffic
YIT obtained the maintenance contract for Sønderborg in 2008; it runs for 15 years, expiring in 2023, and includes paving and lining
The repaving of the runway plus surrounding areas comprised a total surface area of 70,000 square metres
5,000 tonnes of asphalt were used; 3,500 tonnes from YIT's local plant in Tinglev, another 1,500 tonnes from the plant in Vandel
70 people worked on the project, using 30 machines and 150 truckloads of asphalt
The project was finished in only 30 hours
Details
Project name

Sønderborg Airport in Denmark
Customer

Sønderborg
City

Danish Civil Aviation Administration
Country

Denmark
Construction year

2015
Business segment

Paving