Who will the customer of the future be? Trends help in forecasting
How can the future trends be forecast? How to know which phenomena will be on consumers' lips in a year or two? Few can be certain about what the customers of the future want—but some have a better idea than others.
Futurist Elina Hirvonen is among the ones who have their finger on the consumers' pulse. Her recently published book Mitä tulevaisuuden asiakas haluaa – Trendit ja ilmiöt ('What does the customer of the future want—trends and phenomena') presents 18 consumer trends influencing the trade industry together with 10 megatrends. But how did she find these trends?
"Weak signals are the basis of trendspotting," says Hiltunen.
When travelling, talking with trailblazers, reading trend reports and following social media groups, the trend researcher notices recurring new phenomena, no matter how odd, and catches on to them.
"In China, my husband bumped into a restaurant where you can have dinner with your dog. Even if you wouldn't establish a similar joint, a Finnish entrepreneur might seize the trend by offering a dog daycare service for while the owner is out shopping."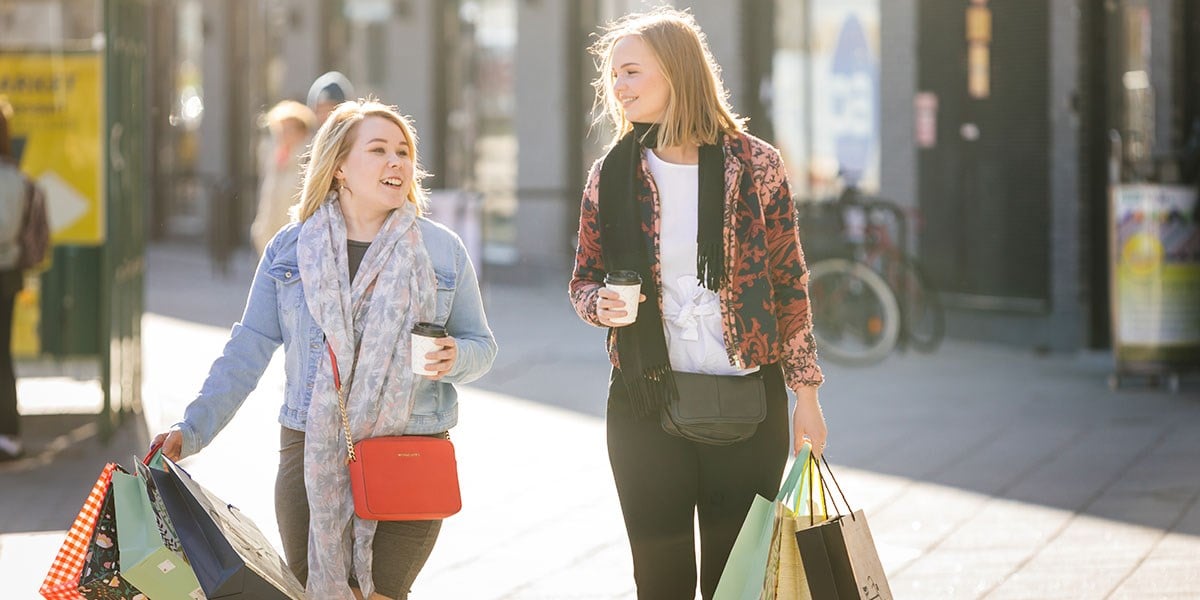 Trends are so much more than just interesting trivia for a restricted number of people. Identifying and knowing commercial trends is like a lens through which you can observe and develop your own business. The only limit is your imagination.
"Playing children's games as an adult is a huge trend now. You can see different pillow fight events and adventure rooms around the world, but this phenomenon can also be used to support the creation of innovations. One crazy idea could be that what if a slide led down to the metro instead of an escalator."
A shopping centre provides a diverse platform for making use of different consumer trends. However, first you must seize the global megatrends: multiculturalism, ageing population and the requirements of sustainable development will inevitably have an effect on the future, and brushing them off will certainly mean losing track.
"Trends describe the current day and history, too, to some extent. Above all, they shed light on which phenomena have the potential to grow to become significant. It's easy for commercial players to evaluate trends by asking themselves that would we fall behind if our competitors made use of this phenomenon," says Hiltunen.
These five trends will be visible in the shopping centre of the future:
Ecological and ethical aspects
Environmental awareness has been prevailing for long now, and commercial actors can no longer ignore the requirements of sustainable development. On the contrary, companies and brands must encourage consumers to act in an ecological manner. For instance, different repair, borrowing and recycling services do that, for instance the textile collection of H&M clothes' chain. It is, however, important that consciousness doesn't stop after a one-off campaign – it has to penetrate the entire value chain of the business. Shopping centres should also keep a keen eye on energy efficiency, invest in waste management and consider construction solutions from a long-term sustainable perspective.
Digital and smart consumers
Digitalism is both an opportunity and a challenge for shopping centres. Consuming is becoming digitised but, at the same time, more information than ever is collected of consumers in a digital format. In the future, shopping centre experiences will be customised based on consumer data. Soon it might even be possible to put on a virtual reality headset and pop in to do some shopping on a high street og one of the metropolises of the world. With digitalisation, also mobile work increases. This means better working spaces should be created also in shopping centres.
A temple of the body and the mind
As stress has increased in work and life in general, people have started to pay more attention to their mental and physical well-being. In Finland, the sports industry is already a business worth over five billion euros. New products and solutions are created on the technology side continuously, but also lifestyle changes related to downshifting are becoming more common. Experiences and different services for the body and the mind are an increasingly important part of a shopping centre's selection.
Something for everyone
The different needs of consumers have increased, and also the marketers have participated in creating new needs. With different lifestyles and values, customers can be divided into several smaller segments. The needs of these various segments can be responded to through customising and personalising. Clothing lines will take customers' special requirements from size and cultural background into account more than ever before. 3D printing and scanning fitting rooms might soon mean completely unique and personalized products, even when shopping in a retail chain store.
Everyday luxury
Luxury has traditionally been reflected in the price tag, but nowadays it's also available to common consumers. Instead of show off consumption, people prefer luxury that entails authentic, experiential, ethical and ecological values. Tuning up and hybrid-consumption are terms used by more and more people. The quality-conscious shopper of the future will combine a cup of pricey artisan coffee with off-brand food and a Finnish design knitted jumper with a pair of sunglasses from a chainstore.
You might also be interested in these:
Read more about Mall of Tripla
Subscribe to Mall of Tripla's newsletter
Digitalisation is the key to knowing your customer
The travel retail boom: from a thoroughfare into a luxury oasis