Well-planned business trips with great results
The key to a great trade show experience is preparation. Read how the Mall of Tripla sales team successfully visited many international events from Cannes to Stockholm this autumn.
In October, the team put up their stand at the Completely Retail Marketplace fair in Stockholm. In November, they participated the MAPIC fair in Cannes with the Nordic Pavilion stand, a joint effort with mall operators from all over the Nordics. The goal was to make contact with potential clients and partners – and it was met more than fine because of good groundwork. In addition to great encounters, the team also had a chance to take in inspiration and hear about the newest industry trends.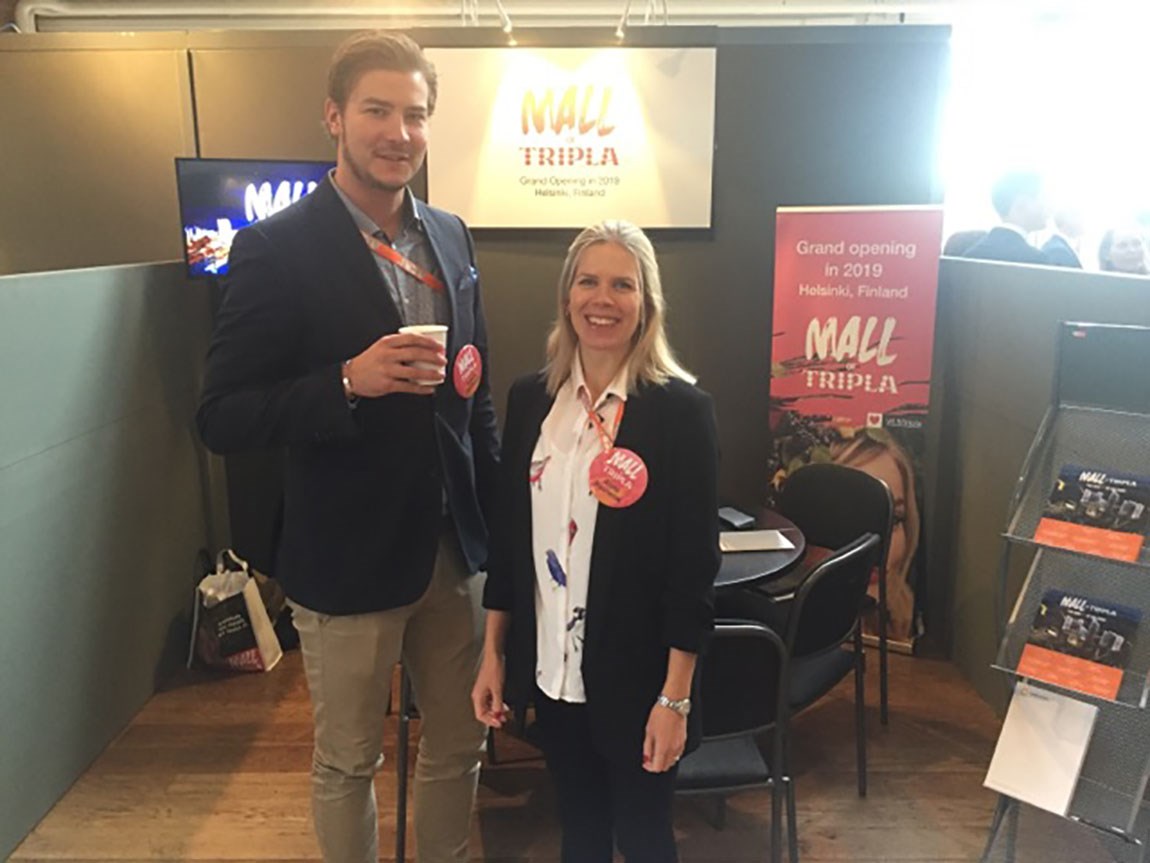 A bounty of business meetings
MAPIC, taking place annually in Cannes, is one of the most important and longstanding industry events in the mall business. The Completely Retail Marketplace, originating from London, introduced a satellite event in Stockholm in collaboration with the Nordic Council of Shopping Centres NCSC this year.
The trade show offered a great opportunity for international brands interested in extending their operations to the Nordics to meet mall industry professionals and landlords. The participants in both MAPIC and CRMP ranged from big global brands to smaller, new labels. Additionally, many service providers from the mall industry presented their expertise from architecture to digital sales platforms.
The Mall of Tripla sales team held business meetings all the way from making new leads to negotiating contracts.
"We met up with numerous interesting brands and there was a lot of buzz around our stand both in MAPIC and CRMP. Customer meetings are the most important part of trade shows," says Account Manager Iina Vapaavuori.
Why not come to Finland?
Successful events require planning. In Mall of Tripla's case it meant well organized division of work when booking the meetings as well as carefully crafted marketing materials from giveaway bags to flyers.
"In most cases, the meeting won't last longer than half an hour. When you've prepared well, it's easier to use that time effectively to discuss whatever the most important topic for the particular negotiation might be," says Account Manager Tomas Syrjänen.
The strategy clearly yielded positive results:
"Many international operators are very interested in both Finland and the Mall of Tripla. They eagerly await what's to come," Vapaavuori says.
Are you interested in finding a business space at the Mall of Tripla? Contact us here!