The most versatile wellbeing services in Finland
Mall of Tripla's fifth floor is an oasis of entertainment and wellbeing. Fitness24Seven, the fastest growing gym chain in the Nordics, will become part of Mall of Tripla's wellbeing offering when it opens a full-service fitness centre above the railway station on the fifth floor of the mall. Each of Mall of Tripla's floors has their own, recognizable theme. Located above the lively railway station, the fifth floor of the shopping centre has been dedicated to entertainment and wellbeing, and it has a relaxing and calm atmosphere.
A modern shopping centre must bear in mind the changing needs of consumers. People are no longer heading to the mall only to buy things; the role of services is continuously growing. Today's consumers are looking for experiences.
"Mall of Tripla will be a city within a city. We are an urban centre that offers not only extensive shopping but also the most comprehensive restaurant offering in Finland, a variety of sports and cultural activities as well as wellbeing services", describes Pirjo Aalto, Mall of Tripla's Commercial Development Director.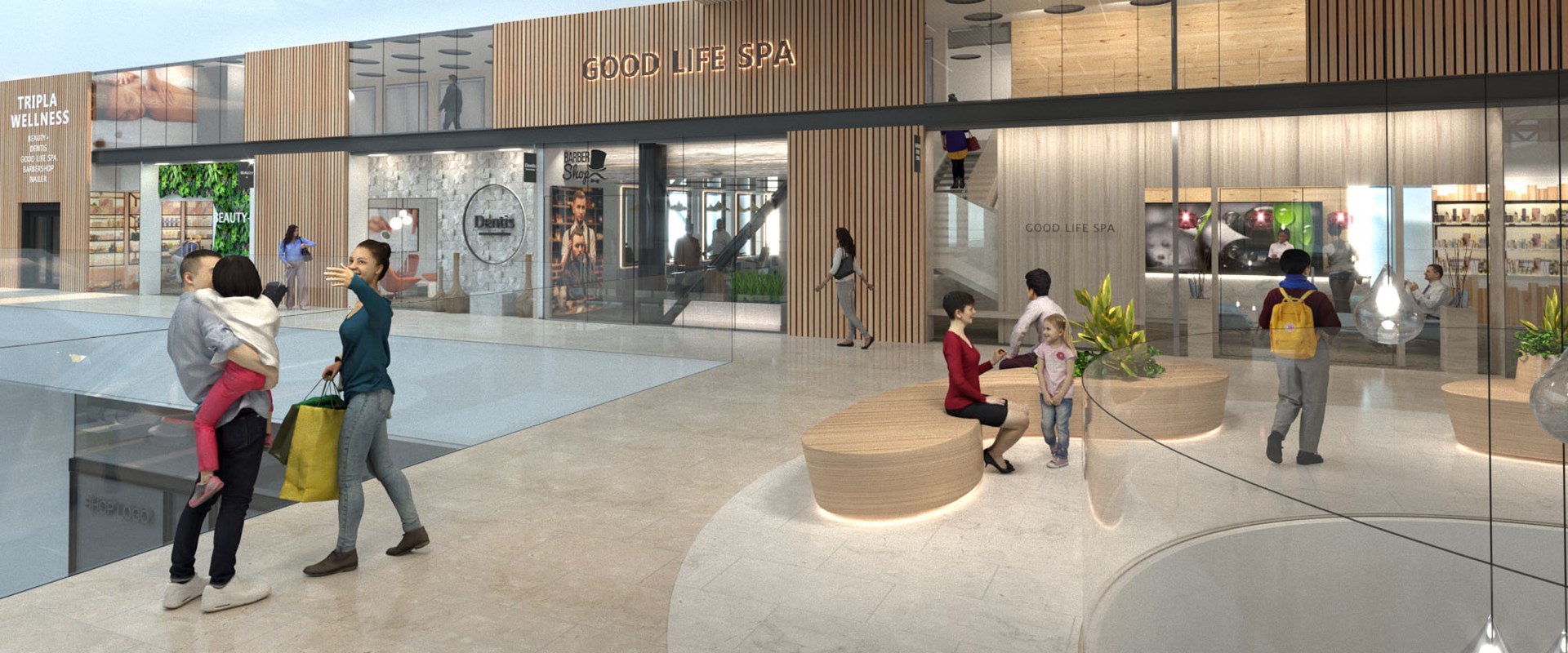 An oasis of health and wellbeing
Nowadays, people are more health conscious and take care of their wellbeing in a more comprehensive manner through different sports, beauty, and health services. Health and beauty service providers have found their place in malls and urban centres. Since last decade, wellbeing has been a vital and also the fastest growing industry in shopping centres.
Mall of Tripla's wellbeing concept will serve consumers in a more versatile manner than any other operator before, because everything you need is found under one roof. Earlier, Finland's largest healthcare service company Terveystalo had secured its spot in Tripla's oasis of wellbeing. Terveystalo will bring comprehensive healthcare, occupational healthcare, and medical services to people of all ages.
A newcomer to the wellbeing offering on Mall of Tripla's fifth floor is Fitness24Seven, who will bring a 1,200 square-metre fitness centre to the mall. The new Fitness24Seven Pasila Mall of Tripla PLUS fitness centre will have group training services in addition to fitness and endurance training.
"We are Fitness24Seven and we're the fastest growing gym chain in Finland. Our services are aimed at trainers who think that high-quality exercising services do not need to cost a fortune. Our fitness centres are open for our members around the clock every day throughout the year. Our location in the new urban centre, near a lively railway station is perfect for us, because we believe that the best time to exercise is when it suits you! Whether you are passing by or a local, with our membership you can exercise in all of our fitness centres in Finland, Sweden, Norway, and Poland. Welcome to work out!" says Fitness24Seven.
Superbly wide range of everyday services on five floors
Along with the fifth floor, pampering and wellbeing services are available also, for example, on Mall of Tripla's second floor. There, Beauty Hair Sirpa Mansner and Shasha Beauty Nails offer style and beauty services.
Mall of Tripla offers – in addition to the most comprehensive wellbeing concept in Finland – a variety of everyday services, such as five grocery stores, 12,000 square metres of restaurants, and a public transportation hub. The offering of the mall continues to grow with new tenants.
On the first floor, the Swedish chain Clas Ohlson offers electronics and home necessities to complement the floor's grocery stores, whereas TeknikMagasinet, another Swedish company, brings a great selection of technology and gadgets for gifting and home to the railway station on the fourth floor. On the second-floor Shopping Street, Intersport complements the wellbeing concept by offering the best equipment for sports and activities.
You might also be interested in this story:
Tens of brands and endless summer – these are Mall of Tripla's newest tenants