Many ambiances under one roof in the Mall of Tripla
Tripla is the new centre of Helsinki – and the Mall of Tripla its markets and high streets. The new hub of Central Pasila is building into a miniature city, where you can do everything you would downtown – but easier and quicker, safe from drizzles and downpours.
As Helsinki's transportation infrastructure develops, the flow of people will more often lead to Pasila. It will be a heart centre where commuters and long-distance travellers can change from one means of transportation to another. Pasila will become a hub of everything, nothing short of the new centre of Helsinki – with the Mall of Tripla as its beating heart.
Top-notch urban environment in a top-notch spot
Before we kicked off designing the interiors of the Mall of Tripla, we did plenty of research to find just the right ideas. We conducted an in-depth interview, where 500 Pasila-dwellers were asked what kind of Tripla would they thrive in. The results were analysed and then forwarded to designers. Nothing in Tripla is based on guesses but every decision is a result of long and careful consideration.
One of the reasons to roam the streets and markets of the Mall of Tripla is of course the fact that it is not affected by weather conditions. But there are more elements that inspire wow. Every single one of the mall's five floors is unique both in ambiance and experiences. Four of the floors can be accessed from the ground level from many directions, hence the natural flow of people will not be interrupted whether arriving from the east to the west or the north to the south. In Tripla, we only have nothing but good business locations.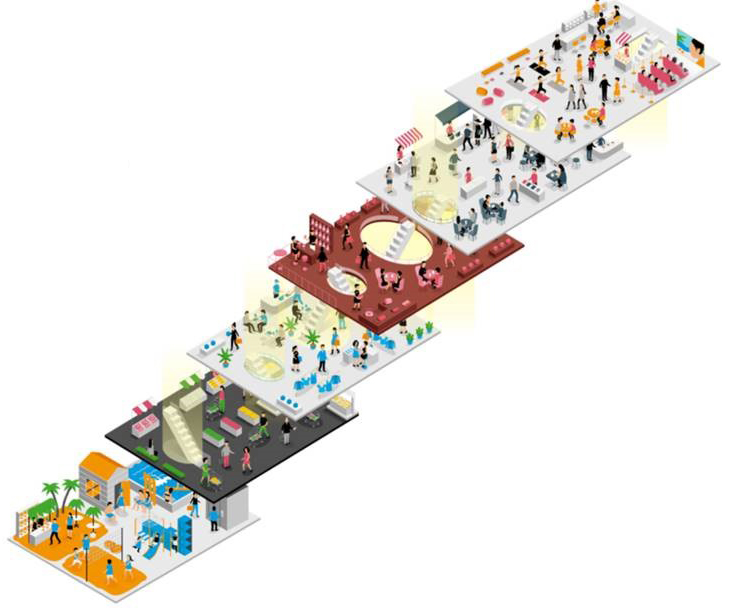 1st floor: Food market
Appetite can't be escaped – but in the Mall of Tripla, it can be postponed in the most convenient and delicious ways. The mall's supermarkets and grocery stores will offer everything and little more but for hard-core foodies there is also the selection of Tripla's Food market. With an array of local and organic producers, it has never been as easy to find fish as fresh as here. Would you like it cooked right away? Sure, can be done!
2nd floor: Nordic Avenue
What is a basic daily need for us northerners? Everything weather-proof, water-proof and functional. This floor is dedicated to all that and more: from overalls, jackets and gore-tex shoes, sporty and practical outerwear can be found here. Not to mention comfortable everyday fashion for the whole family, as this floor covers the needs for the working parent's day-to-day closet as well as the children's attire for a day of play in the kindergarten. With an extensive selection, it is easy to top up the family wardrobe for the whole season. No stress required!
The magnificent food court, also located on this floor, is an easy spot for families to enjoy and share a meal around the same table – even with varying tastes, as different restaurants serve to the whole area without limitations. Once again: no stress required whatsoever!
3rd floor: Downtown
You don't have to leave Pasila to get a taste of international brands and their latest fashions. After shopping on the third floor, you will present impeccably in any occasion. And what's best, it doesn't take you more than a lunchbreak to find what you need! The Downtown is a high street with a capital H – but better than anything you've seen in Helsinki before. This is the new centre of the city, after all.
What's more, on this floor experiences abound. Pop in to FAME – the Finnish Music Hall of Fame or go for palatable pleasures in one of the floor's destination restaurants. Downtown is the unbearable lightness of urban life at its best!
4th floor: Little Manhattan & the railway station
Seeking for hustle and bustle? Here you can find it 24/7. On this floor the Little Manhattan of the mall and the Pasila railway station mix seamlessly into a unified urban hub. Enter in through Fredikanterassi, current Pasilansilta, located in front of the mall, or through the new public transportation terminal. This is also where you enter the train platforms, the hotel and Tripla's offices. Little Manhattan is much like its bigger sister: a locus for a never-ending flock of people, surrounded by a variety of shops and restaurants.
5th floor: Soul Streets
Your body is your temple and it deserves some self-care. Hit the gym, enjoy a massage and on your way out, pop in to the medical centre to top up your prescriptions. Or go to the cinema: the six auditoriums at Cinamon offer the latest technology, a varied programming and valuable offers for loyal customers. This floor also boasts with restaurants and bars, so why not end the movie night on the dancefloor at a club with the best moves you've got?
And what is a city without a church? That's why the Töölö parish is located here. Organise a family gathering, pop in for some quiet time or find some youth activities for your angst-ridden teen. The doors are open for everyone!
Down Under
G'day mate! Life shouldn't be too serious. It's time to take a dive to the underground floor of Mall of Tripla, slip into your swimming trunks and surf like a real aussie! Or enjoy the sand under your feet and go crazy on valley ball. In the land of eternal summer everything is possible, the music feels a little bit louder and drinks chiller.
While adults take a vacay at Surf Beach Helsinki, the children can have fun at the HopLop adventure park. Return to the ground from down under refreshed from your mini vacation!
Whatever you need, we've got it
What's great about visiting the city centre is the fact that you can do almost anything there: shop for groceries, run errands, find a fierce outfit, take in some culture, meet up with friends, wine, dine and enjoy yourself. These are the exact same reasons Tripla is the go-to destination of the future.
With its 250 shops and services, Mall of Tripla presents the best platform for shopping in Finland
The range of services is top notch, ranging from health, beauty and wellness to entertainment and leisure
The biggest variety of restaurants in Finland, with something for every taste and need from fast food to fine dining
The connections from Tripla to the Helsinki metropolitan area, the airport and practically anywhere in Finland are extensive, ranging from public transport to shared-use cars
Tripla is full of life and never boring!
To top it all off, the new urban culture bubbling under in Pasila is only waiting to burst out. Tripla's agora and shopping streets are perfect venues for anything to happen – just like it's supposed to in the centre of the city.