Endless summer, we salute you
A surfer spends 98 per cent of their time catching waves and only two per cent in surfing itself. What if the ratio was reversed? This thought was the driving force behind one man's mission of finding the perfect artificial wave. Ultimately it landed Janne Miikkulainen from Southeast Asia to Finland – and with him came year-round summer.
In 2019 a unique concept combining surf and beach volley will open its doors right beneath the Mall of Tripla. An endless summer will be brought to the underground with a steady 26-degree-temperature all year round. One of the driving forces behind the project is Janne Miikkulainen, whose international Surf House concept is based around an artificial wave suitable for all.
"When I was younger all I cared about was surfing. Even though I lived in Southeast Asia, during the off season a lot of my time went into looking for waves and traveling to hard-to-reach places," Miikkulainen says.
Previously a diving school entrepreneur, Mikkulainen, along with his friends, started to look into various wave-making machines on the market. Soon they found what they were looking for: a machine called the Flowrider that was not only safe but also provided a wave challenging enough to accommodate flowboarding – a sport much like surfing.
When Miikkulainen came up with the idea of pairing up the Flowrider with a beach club environment that served good food and playes music, the popular Surf House concept was born. Top Finnish marketing and restaurant professionals teamed up to help with the concept, and soon the first Surf House was built in Phuket's Kata Beach in 2013 and another to Patong Beach in 2016.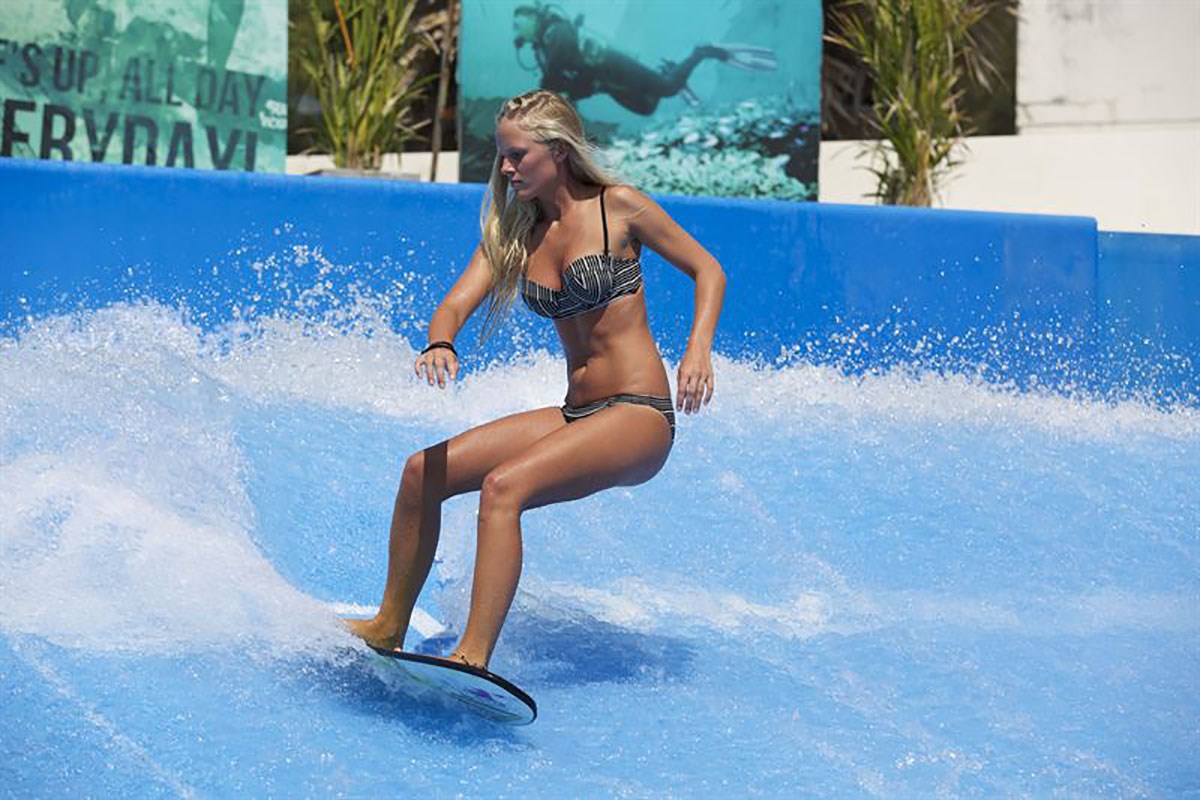 A puzzle coming together
It didn't take long for Miikkulainen to start entertaining an idea of bringing the Surf House concept from tropical Thailand to freezing Finland. Two challenges occurred: where to find big enough premises for the enormous indoor beach and how to maintain a summery vibe even in the darkest and slushiest time of the year.
The challenges concerning the summer solved themselves as Miikkulainen discovered Suomen Beach Volley Ltd., a company specialised in creating indoor spaces suitable for beach volley, through mutual acquaintances.
"Their mindset is very similar to ours even though our sports are different. Suomen Beach Volley provides us with the expertise needed for creating a summer vibe using sand and lights". Miikkulainen says.
The property issue was a tougher pickle. A huge indoor beach surely doesn't fit just anywhere. Even a generous, high-ceilinged space with no pillars is not enough – its structures also need to be sturdy, as the Flowrider weighs a lot.
The puzzle started coming together as Miikkulainen heard about the 6000-square-metre subway tunnel that had been mined underneath the Mall of Tripla.
"If the tunnel has enough capacity to sustain a metro train, it will survive the Flowrider's propeller pump," Miikkulainen says. "And it goes without saying that Tripla's location is one-of-a-kind, too."
"Relevant for every Finn"
The end result, Surf Beach Helsinki, is a joint venture by Helsinki Beach Volley and Surf House. It aims to combine relaxed beach culture with summery activities – and provide that endless summer for everyone even when it's raining hail outside. During daytime, it's all about sports and play, come night it's time to party in a beach club manner. The centrepiece is not a dance floor but a churning wave.
"We are definitely not a swimming pool nor a water park. The restaurant, various events and flowboarding competitions make the concept quite something else," Miikkulainen says.
He highlights that flowboarding is not about imitating or trying to replace the authentic surf experience. Instead, it combines elements from various boardsports: turns from surfing, tricks from skateboarding and cruising from snowboarding. As the concept is suitable as much for families with children looking for daytime activities as for board sport enthusiasts who get antsy during off season. Late weekend nights are reserved for party animals.
All in all, however, the target group is not all that important to Miikkulainen:
"Come October and November, a bright beach atmostphere is relevant to each and every Finn. Listening the rain beat against your office window it's soothing to know that in Pasila you'll feel the exact opposite."
Read more about Helsinki Surf Beach coming to Mall of Tripla